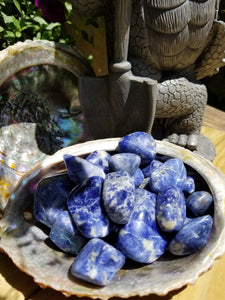 Sodalite crystal is a salty combination of manganese and calcium, a magical synergy of minerals that creates a soothing effect on overstressed or sluggish adrenal glands. In the spiritual sense, Sodalite gives us a sense of calm to weather the storms of life. But remember--it's the rainstorms that give way to an abundance of sunshine and blooming flowers. 

Sodalite also stimulates the pituitary gland, which opens up your spiritual perception. By energizing the brain's spirit portal, this grounding stone releases tension and fears, the negative emotions that Sodalite helps to transform into feelings of harmony and balancre the gateway to enlightenment. 

Sodalite helps us know ourselves at a deeper level, giving us a renewed sense of confidence and self-esteem: Know yourself and be empowered. Accept yourself and be invincible. This is the magic of Sodalite. It gives you super powers that keep you shielded from negative forces in our imperfect world. The gift of knowing who you are is the foundation of all wisdom, so get connected with the Sodalite crystal stone and transcend the ordinary with its extraordinary healing powers. 
Sodalite crystal properties offer the gift of creative thinking and expanded spiritual awareness by stimulating the throat chakra, the energy center of communication and a translator for the soul. This channel also supports your deepest dreams and helps make them a reality.