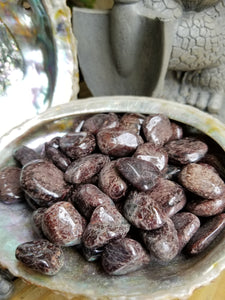 Garnet is a powerful energizing and regenerative stone. It balances, strengthens and protects.
It has been used to reduce body toxins, purify vital organs and blood, and assists in assimilation of vitamins and minerals. Emotionally it provides a protective and calming influence during use and is thought to heal melancholy and depression, strengthening the survival instinct, and bringing courage and hope into critical situations.
Garnet balances energy, bringing serenity or passion as appropriate, and can inspire love and balance your desires. Garnet is considered a lucky stone, for love, success, and for business relationships. It helps you let go of old behavior patterns and boosts self-confidence.
All Garnets honor Sekhmet, the Egyptian Goddess of War, and is the traditional birthstone of those born in January. It is the stone of those born under the zodiac sign of Aquarius, and as an Enhancer Strengthener crystal, it has been worn for centuries as a protective and powerful talisman.