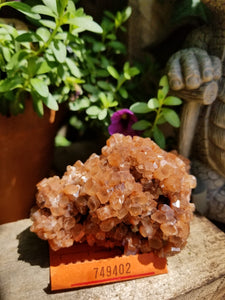 Aragonite is a healing stone that is excellent for removing stress an anxiety. It is a calming meditation crystal, and it brings solid Wood Energy into a room or life.
They are very helpful talismans for mental and spiritual problems. All of us have problems. Some are physical, some spiritual. Certainly our lives would be more enjoyable and more productive if we could rid ourselves of them. Worry, anxiety, fear, and doubt can literally cripple us and make our lives miserable. Aragonite is used in mediations to enhance insight and assist in communications with Higher sources of information and intelligence. It sensitizes a person to their spiritual capabilities. It enhances inner vision and allows for smooth communications with the Spirit world. It is also used to calm anger and stress before a formal meditation effort. Aragonite is excellent for improving your intuition, and psychic ability. It has an excellent stabilizing influence. It is used in supporting the practice of breath work for emotional healing.  Aragonite is excellent for improving your patience and for maintaining a state of calm during periods of increased responsibility and stress.
It weighs 295 grams and measures 3 1/2" x 2"