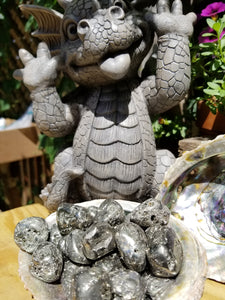 Pyrite is often called "Fool's Gold," An Earth element, it also resonates with Fire energy, symbolizing the warmth and lasting presence of the sun and the ability to generate wealth by one's own power. It is masculine in nature, a stone of action, vitality and will, and taps into one's abilities and potential, stimulating the flow of ideas. It brings confidence and the persistence to carry things through to completion
Pyrite is a protective, shielding stone and is excellent to wear or carry as an amulet to deflect harm and danger. Pyrite guards against ongoing control, criticism and manipulation by a partner, parent or employer, lending the power to resist without becoming angry or upset, changing the balance of power
A piece of Pyrite in the home or workplace energizes the area around it and imparts an immediate increase in vitality. It overcomes intellectual fatigue due to overwork and tiredness of the nervous system by stimulating blood flow to the brain, increasing mental clarity, focus and recall. 
It may be useful in fighting colds, flu and other viruses, skin diseases and fungal infections, and  beneficial in treatments for highly infectious diseases. It has also been used to lessen fever and reduce inflammation, and is an excellent stone of protection for caregivers and medical workers
Pyrite increases oxygen supply to the blood and strengthens the respiratory and circulatory systems. It is beneficial to the lungs, helping to alleviate asthma and bronchitis, and may be used in treating blood disorders. It assists in treatments of the bones, both in structure and cell formation, and helps prevent and repair DNA damage.Pyrite also stimulates proper endocrine function and is excellent for combating male impotence and infertility
 It relieves anxiety and frustration, and as a mirror to the self, reveals the causes behind these emotions and promotes a search for solutions Pyrite's energy is empowering to the spirit, encouraging one to overcome fears and take action. It increases one's will to accomplish whatever tasks one sets out to do, Pyrite is particularly stimulating to the Third, or Solar Plexus Chakra.